NICKEL PLATED FASTENERS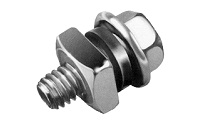 Nickel Plating involves electroless deposition of metallic Nickel onto the Bolt Surface. It has become popular due to imporved surface smothness & luster appearance. Unlike other metallic deposition, no electricity needs to be passed through the solution for plating.
Alloy Fasteners provides Nickel Plated Fasteners viz; Bolts, Screws, Studs, Nuts, Washer & Component Partss.
Keywords for Products : Nickel plated fasteners, Nickel plated bolts, Nickel plated screws, Nickel plated nuts, nickel plated washers, nickel plated studs, nickel platingon bolts, nickel plating bolt supplier, nickel plated fasteners supplier, nickel plated bolt manufacturer.
For quick Quote on Nickel Plated Fasteners/ Bolts, Screws , please contact our Sales team.